Yipee... I've got to get on & finish the mods on the Brinkman today.  It has to be all done & ready for this Saturday at the Billing Smoker18. ?......more later on with a photo or two.
Ok the Brinkman is now starting to look like it may work....fingers crossed.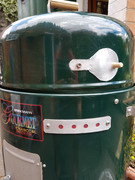 Photo 1....silicone grommets.
Photo 2....Fire rope around the lid.
Photo 3....The gasket around fire .door
2